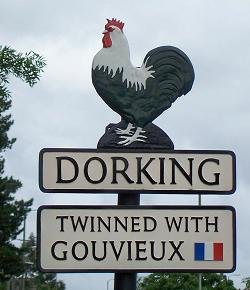 Transfer from London Airports to Dorking.
Dorking is a calm and serene area with many sites to see and is perfect just to have a peaceful break. Not only this but Dorking consists of a lot of wildlife that is rare to see in other parts of Britain and has picturesque scenery that is unrivaled by any other part of the country. This is the prime location for many heritage sites such as Dorking Museum which allows you to learn new and fascinating things about the history of the city and how it has grown.
Firstly the best place to visit where I have personally gone before is none other than Leith Hill. This trek up the Hill is quite short and has many different routes. The paths up to the top of the hill take no longer than 20 minutes to walk up and at the top the whole town can be seen in an unbelievable sight. The paths up to the top of the hill take you through woodlands and heath and at points along the way there are notices about the wildlife you will see and information about each of these animals. The walk has been described in the past as "just a chance to put your mind to rest and enjoy the day for once". Why wouldn't you go on this walk, it is just so much fun.
Another area which I am sure that the adults will enjoy is none other than Denbies Wine estate. Here people are able to visit and witness how wine is made in England. There are several acres of land consisting of a variety of things. Here not only can you see the farms where they grow the fruits, where they extract the juices and all the chemical processes. You can also do wine tasting, professionals will teach you how to figure out how old the wine is, how concentrated the wine is and what part of the world it could come from. This newly refurbished area also has shops where wines can be bought and even has some cafe's where people can eat and enjoy the sites and the clean air of the countryside.
Dorking is a perfect area for older people to come and enjoy themselves. You can get away from the noise and pollution of the city to this quiet and just magnificent area hidden in the midst of cities all around it. So
visit Dorking and you won't be disappointed.
One of the main reasons is that if you are travelling in a large group, it means that you have big luggage along with you. To carry that luggage and to drop you to final destination safely, you have to hire airport transfers. Select your type of vehicle from given list on website.
offer comfortable, reliable and affordable transfer service 24 hours a day, 7 days a week in order to make available the highest convenience to our customers. Our fixed pricing model for our
Airport transfers services is very affordable and predictable as there are no hidden fees or costs. Our Airports and sea ports services easy to get accurate price quotes on our www.eatransfer.com website which are guaranteed to be of the highest quality.